Congratulations Gary Roberts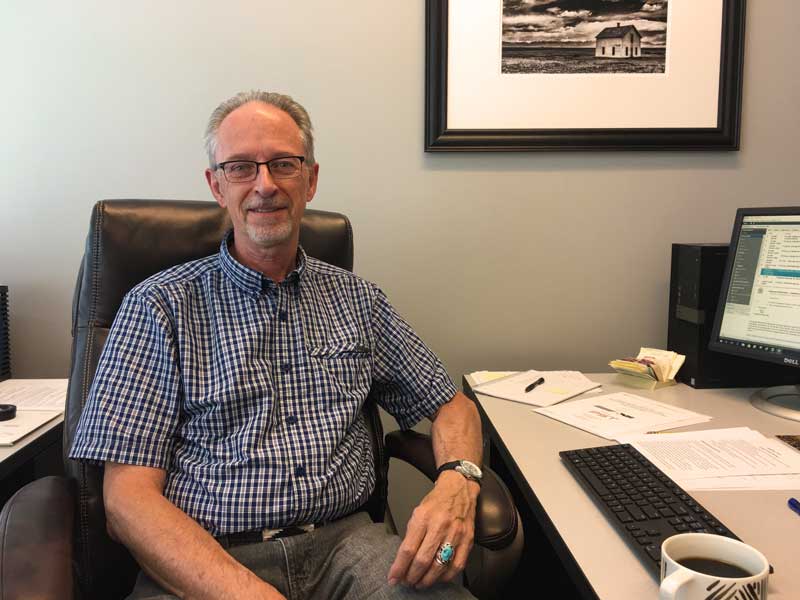 It's hard not to smile when talking with Gary Roberts. That's because he is usually the one to smile first. Gary's knowledge and fingerprints are all over the most foundational parts of PST's solutions. Customer service representatives see his comments and code notations whenever they open up our Crew Management software to help a customer.
A man of many interests, few words and charming yet acerbic wit, he will be missed around our offices – especially since his office was ground-zero for Donut-day every week. Enjoy your retirement Gary!
Gary shared some of his background: 
What's that 'thing' you're going to do in retirement that you've been waiting for?
I really want to start building furniture again, it's been quite a few years since I've been able to work on anything.
I would also like to take some great photography trips to pursue that passion…my web site is GaryRoberts.Smugmug.com
When and where did you start with the railroad? 
I started working for the Denver & Rio Grande Western RR in 1973, Alamosa, Co. working as a yard clerk, crew caller, demurrage clerk.  The railroad closed the agency in Alamosa in 1984, and I transferred to Denver and worked in the Centralize Billing Agency. In 1987 I was promoted into IT, where I started working with Ed Williams.
How did you get involved with PST?
I started with PST November 1991 as a contractor,  then hired February 1, 1992.
What is your favorite railroading memory?
I don't know about favorite, but the one that sticks in my mind is running for my life one night weighing rail cars in Alamosa.  We had just finished weighing one cut of cars, and the switch crew got the second cut to start weighing.  The engineer started shoving the cars down to the scale and fell asleep, while continuing to pick up speed, I looked up to see the switchmen running for cover, and perceived it could be beneficial to my well being to follow their lead.  That was the last time the scale at Alamosa was ever used because it was totally distroyed, really an eye opener to see 132 ton rail cars flying around when your standing on the ground right beside them.