Many Trees, One Root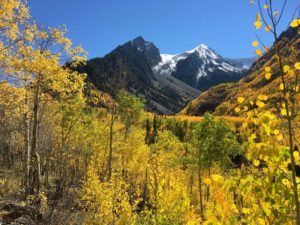 The PS Technology headquarters are in Louisville, Colorado. That gives our group a chance to witness extraordinary displays of the Aspen's fall colors every year.
The interesting thing about the stands of Aspen is that they are really one tree, sharing a massive, common root system. This lets the trees spread rapidly, utilize shared resources, and maximize collective growth.
Buzz-Word Bingo and Solutions Based Growth
Business publications consistently play buzz-word bingo. Phrases like "Internet of Things" (IoT) frequently lose meaning due to their overuse. But, the IoT is very much like Aspen's root system, allowing for rapid business growth powered by newly discovered relationships within an organization.
As PST designs its solution-based products, it is becoming easier for our clients to see and respond to their turbulent environments. It is finally possible to cost-effectively interconnect many systems into organic solutions that allow businesses to quickly spread their footprint with qualitative decision making.
Surprising Connections
Of all the interconnections a business can have, the most powerful is the connection to its employees and their ideas. A myriad of studies over the years decisively proves people are helpful, enjoy challenges, and want to succeed – but, that only happens when it's allowed intentionally within an organization.
Our parent company, Union Pacific Railroad, has realized that little fact. This realization was the genesis of a product we created for their use called Innovation Station. The fruits of that is saving UP millions of dollars annually, simply by letting employees contribute and become part of the larger growth and solution.
It's very exciting.
Other customers of our Innovation Station solution are also discovering how much growth comes with organically connected and contributing employees.
Providing Relationships Instead of Things
Selfishly, if our customers grow, we grow, too. Recognizing that has led us to seek ways insuring solution-based growth. It's symbiotic. That whole partnership-with-your-clients thing is truly beneficial. When you don't care much who gets the credit, amazing things develop. Why create a 'thing' when instead, you can create integrated product solutions, ensuring a future?
Growing a forest of color is a very satisfying way to do business.